Boone County Tire Recycling
*** FOR IMMEDIATE RELEASE ***
Friday, August 4, 2017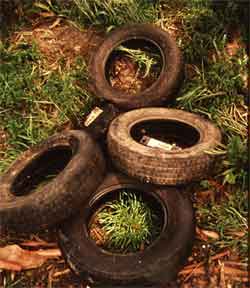 On August 17-19, 2017 Kenton County in cooperation with the Cabinet for Energy & Environment, will be hosting a Waste Tire Collection Event. County residents may bring an UNLIMITED number of tires to specific locations in August for FREE disposal.
Tire retailers, tire dealers, junk yards and garages are PROHIBITED from participating.
HOURS: Thursday and Friday hours are 8:00 am to 5:00 pm and Saturday hours are 8 am - noon.
LOCATION: Boone County Public Works Yard at 5645 Idlewild Rd., Burlington or the Bavarian Landfill at 12764 McCoys Fork Rd, Walton
ITEMS ACCEPTED: Tires on or off the rim
ITEMS NOT ACCEPTED: foam filled tires, off-road construction and equipment tires, solid tires with pressed-on rims, or tires larger than tractor size tires with a bead greater than 1 3/4 inches, track tires, sheet rubber tires, solid tires, calcium, or fill tires
Residents of Boone, Kenton, or Campbell Counties may participate.
Please call Boone County Solid Waste - Kelly Bowlin - with any questions at 859-334-3629.